FIND OUT
THE BEST WAY

THE EXHIBIT THAT SPARKSYOUR MUSICAL CREATIVITY
The Reactable Experience opens up a whole new universe of pedagogical, entertaining and creative possibilities.
The instrument captivates through direct and immediate feedback and guides the player to understand and explore sound generation in an intuitive way, no matter the age or the musical knowledge. Its multi-user capability allows several players to use the installation simultaneously and promotes collaborative compositions.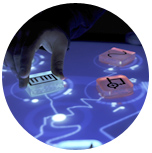 TOUCH AND MOVE THE OBJECTS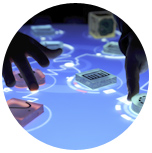 SEE THE VISUAL FEEDBACK ON THE SURFACE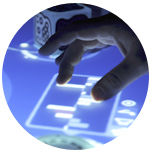 CONTROL THE SOUND WITH YOUR FINGERTIPS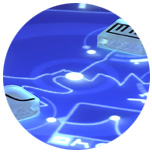 HEAR YOUR MUSICAL CREATION
USAGE
Every day installation
The Reactable can be used as fixed installation and can also be adapted to meet the needs of a traveling exhibition.
Live events
As a concert instrument the Reactable can be used to accompany or star live events in your museum.
Workshops
Impart a deeper knowledge of sound generation, music structure and composition by organizing Reactable workshops.